HIKVISION DS-2SF8C425MXS-DLW(14F1)(P3): Unleash the Power of TandemVu 8-inch 4 MP 25X DarkFighter Network Speed Dome
Discover the HIKVISION DS-2SF8C425MXS-DLW(14F1)(P3) TandemVu 8-inch 4 MP 25X DarkFighter Network Speed Dome, offering unparalleled imaging quality and low-light performance. Learn how HIKD (HIKVISION Distribution) provides reliable video surveillance solutions with competitive pricing and professional support. Contact sales@hikdistribution.com or visit https://www.hikdistribution.com for more information. Published by Friedrich Mueller, a Senior Video Solutions Engineer, on June 20, 2023, in San Francisco.
Introduction:
In the world of video surveillance, HIKVISION continues to lead the way with their cutting-edge technology and innovative solutions. The HIKVISION DS-2SF8C425MXS-DLW(14F1)(P3) TandemVu 8-inch 4 MP 25X DarkFighter Network Speed Dome is a prime example of their commitment to excellence. This high-performance PTZ camera captures a large area while delivering exceptional detail, ensuring that no incident goes unnoticed. Let's delve into the features and benefits of this remarkable security solution.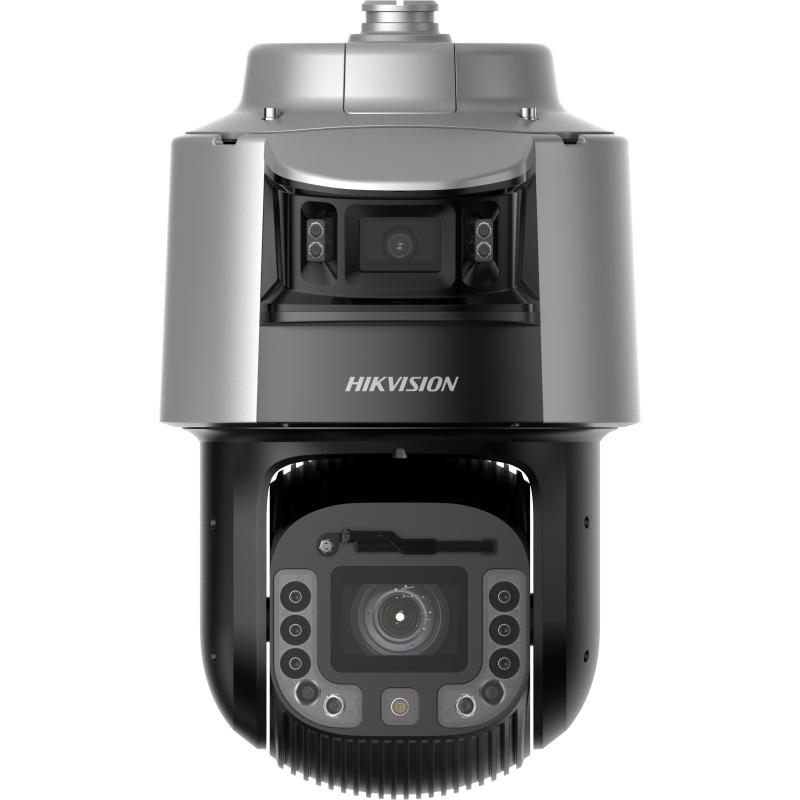 TandemVu 8-inch 4 MP 25X DarkFighter Network Speed Dome
Captures a large area and great details at the same time
High quality imaging with 4 MP resolution for both bullet channel and PTZ channel
24/7 colorful imaging and excellent low-light performance with DarkFighter technology
Bullet channel tilt adjustable from 7° to 17°
Secures an expansive area with 25 × optical zoom and 16 × digital zoom
Expansive night view with up to 30 m white light distance and 300 m IR distance
Supports deep learning functions
Water and dust resistant (IP67) and vandal resistant (IK10)
Unparalleled Imaging Quality:
The DS-2SF8C425MXS-DLW(14F1)(P3) TandemVu Speed Dome offers remarkable imaging capabilities with its 4 MP resolution. Whether you need clear images from the bullet channel or the PTZ channel, this camera delivers superior image quality, ensuring that every detail is captured with precision. The high-resolution imaging ensures optimal monitoring and identification, even in challenging environments.
Superior Low-Light Performance:
Thanks to HIKVISION's DarkFighter technology, this speed dome camera excels in low-light conditions. It provides 24/7 colorful imaging, allowing you to see vivid and accurate colors even in the darkest of scenarios. With excellent low-light performance, you can trust the DS-2SF8C425MXS-DLW(14F1)(P3) to deliver exceptional visibility at all times.
Versatility and Flexibility:
The DS-2SF8C425MXS-DLW(14F1)(P3) offers impressive flexibility with its tilt-adjustable bullet channel, allowing you to precisely position the camera for optimal coverage. With a 25X optical zoom and 16X digital zoom, this speed dome camera ensures you can closely monitor specific areas of interest while maintaining a wide coverage range. Whether you need to secure a large outdoor area or focus on specific points, this camera provides the versatility required for effective surveillance.
Enhanced Night Vision:
In low-light and nighttime conditions, the DS-2SF8C425MXS-DLW(14F1)(P3) truly shines. It boasts a white light distance of up to 30 meters, providing a clear view of the surroundings. Additionally, the camera offers an impressive 300-meter IR distance, allowing for expansive night vision coverage. With its exceptional night vision capabilities, this speed dome camera ensures reliable surveillance round the clock.
Advanced Functionality and Durability:
This HIKVISION speed dome camera supports deep learning functions, allowing for intelligent and proactive surveillance. It can analyze and detect specific objects or behaviors, providing valuable insights and enhancing security measures. Moreover, the DS-2SF8C425MXS-DLW(14F1)(P3) is built to withstand various environmental challenges. With its IP67 water and dust resistance rating and IK10 vandal resistance, it guarantees reliable performance and durability even in harsh conditions.
HIKD: Your Trusted Partner for Video Surveillance Solutions:
HIKD, an authorized distributor of HIKVISION products, is your go-to source for top-quality video surveillance solutions. With a strong commitment to customer satisfaction, HIKD offers competitive pricing, a comprehensive product range, and a professional service team. They ensure that customers have access to the latest advancements in video surveillance technology and reliable support, empowering them to create secure and efficient security systems.
Conclusion:
The HIKVISION DS-2SF8C425MXS-DLW(14F1)(P3) Tand
emVu 8-inch 4 MP 25X DarkFighter Network Speed Dome stands as a testament to HIKVISION's dedication to delivering exceptional surveillance solutions. With its impressive imaging capabilities, low-light performance, versatile functionality, and durable design, this speed dome camera provides unmatched surveillance capabilities. Partner with HIKD to harness the power of this advanced security technology and ensure the safety of your premises.
About Author