Unleashing the Power of Surveillance: Introducing HIKVISION iDS-7732NXI-M4/16P/X 32-ch 1.5U 16 PoE 8K DeepinMind NVR
Unleashing the Power of Surveillance: Introducing HIKVISION iDS-7732NXI-M4/16P/X 32-ch 1.5U 16 PoE 8K DeepinMind NVR
In the ever-expanding realm of video surveillance, HIKVISION has once again taken the lead with its latest innovation, the iDS-7732NXI-M4/16P/X 32-ch 1.5U 16 PoE 8K DeepinMind NVR. This cutting-edge NVR boasts an array of advanced features that redefine surveillance capabilities, providing users with unprecedented control and insights.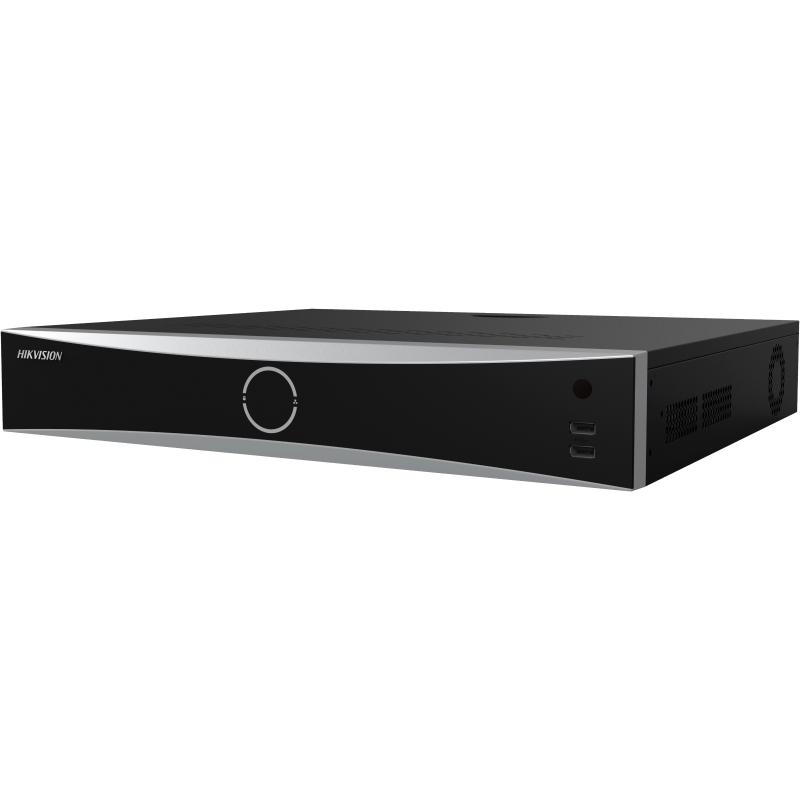 Enhanced Decoding Capacity for Crystal Clear Imagery:
The HIKVISION iDS-7732NXI-M4/16P/X NVR sets new standards in decoding capacity, supporting up to 2-ch@32 MP/2-ch@24 MP/4-ch@12 MP/8-ch@8 MP/16-ch@4 MP/32-ch@1080p. This impressive capability ensures crystal clear imagery, making it easier than ever to discern critical details in captured footage.
Intelligent Analytics with Deep Learning:
Powered by intelligent deep learning algorithms, the iDS-7732NXI-M4/16P/X NVR elevates surveillance to a new level of efficiency and accuracy. The NVR's analytics capabilities enable real-time video analysis, providing valuable insights that aid in swift and informed decision-making. Say goodbye to false alarms and hello to a smarter, more reliable surveillance system.
Seamless Integration with Power-over-Ethernet (PoE) Technology:
With up to 32-ch IP camera connectivity, the iDS-7732NXI-M4/16P/X NVR ensures comprehensive coverage for any surveillance needs. The inclusion of 16 power-over-Ethernet (PoE) interfaces makes plug-and-play installation effortless and efficient. Experience seamless integration and reduced cabling complexities, simplifying setup and maintenance.
Facial Recognition for Advanced Security Solutions:
The iDS-7732NXI-M4/16P/X NVR's facial recognition capabilities are a game-changer in the realm of biometric solutions. With support for up to 16-ch facial recognition for video streams and up to 32-ch facial recognition for face pictures, businesses can enhance access control systems and streamline investigations with ease and accuracy.
Perimeter Protection for Enhanced Safety:
Security is paramount, and the iDS-7732NXI-M4/16P/X NVR offers up to 24-ch perimeter protection to fortify your premises. Smart analysis features, including line crossing and intrusion detection, coupled with reduced false alarms, allow for better resource allocation and improved response times.
Unlocking Insights through Video Structuralization:
The iDS-7732NXI-M4/16P/X NVR's video structuralization feature empowers businesses to extract meaningful insights from their video footage. With support for up to 12-ch video structuralization, categorizing and analyzing video content has never been more efficient, revolutionizing the way you manage and leverage surveillance data.
HIKD: A Trusted Partner in HIKVISION Solutions
HIKD's partnership with HIKVISION has been instrumental in delivering top-tier video surveillance products and solutions. As a leading distributor of HIKVISION products, HIKD's commitment to innovation and customer satisfaction ensures businesses worldwide receive the support they need to harness the full potential of their surveillance systems.
Experience the Future of Video Surveillance:
Incorporate the HIKVISION iDS-7732NXI-M4/16P/X 32-ch 1.5U 16 PoE 8K DeepinMind NVR into your security infrastructure today. Witness the power of intelligent analytics, accurate facial recognition, and enhanced video decoding capacities – all designed to take your surveillance to new heights. Stay one step ahead with HIKVISION and HIKD as your trusted partners in security solutions. Embrace the future of video surveillance and unlock a safer, smarter world.
About Author